Buying Jewelry, Antique Jewelry, Gold Jewelry, Estate Jewelry Collections.
If you have valuable items that you want to sell bring them to our shop so our buyers can offer you a fair price. If you are unsure of your items value, stop in with items, so we can evaluate and give you a price. We pay cash giving you the most reasonable price based on the type and condition of the item. Before you throw out your old costume jewelry accumulations bring them in. We also purchase entire fine estate collections.
Antique jewelry
Estate jewelry collections
Engagement rings
Wedding rings
Diamond jewelry
Colored Gemstone jewelry
Pendants
Charm bracelets
Charms
Lockets
Bracelets
Brooches
Pins
Rings
Chains
Class rings
all 10K, 14K, 18K, 24K jewelry items
Broken jewelry
Scrap jewelry
Tangled and/or bent chains
Diamond earrings
Cuff links
Necklaces
Earrings
pearls
Turquoise jewelry
Old Costume jewelry accumulations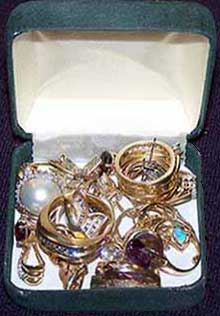 Where to sell your jewelry? Where to sell your gold jewelry?
International Gold and Silver

, is the best place to sell jewelry