Buying Silver, Silver Coins, Fine Silver Estate Collections
If you have silver items that you want to sell bring them to our shop located near the Milwaukee, Waukesha, Brookfield area, so our buyers can offer you a fair price. Interested in buying silver candlesticks, sterling flatware, silver teasets, fine silver, turquoise jewelry, and silver coins made in 1964 or earlier. If you are unsure of your items value, stop in with items, so we can evaluate and give you a price. We pay cash giving you the most reasonable price based on the type and condition of the item. We also purchase entire fine estate collections.
Whole Estate Collections
Antique Jewelry
Sterling Flatware
Silver Candlesticks
Fine Silver
Silver Teasets
Silver Charms
Turquoise Jewelry
Silver Coins
Coin Collections
Sterling Silver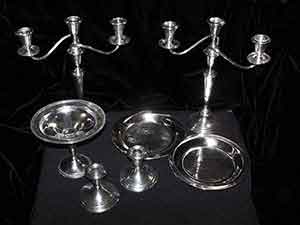 Where to sell your silver? Where to sell your sterling silver?
International Gold and Silver

, is the best place to sell silver