PAYING CASH for Gold, Diamonds, Watches, Coins, Jewelry, Sterling, Platinum
We specialize in buying jewelry, diamonds, gems, coins, sterling flatware, watches, old costume jewelry accumulations, precious metals, gold, platinum, silver, palladium, iridium, antique jewelry, war relics, Indian items, fine estate collections, and antiques. We buy entire collections and estates. Why take your items to auction services when they charge 30% commissions. Deal directly with International Gold and Silver.
Reasons to sell your
Gold

Jewelry to us?
Most trusted Jewelry buyer.

RATED THE BEST GOLD BUYER

, by the Milwaukee Journal/Sentinal on 6/12/2010 (article link), offering the most for your gold items, as stated in article.
We are authorized and regulated by local officials.
35 years same location

PAYING CASH!!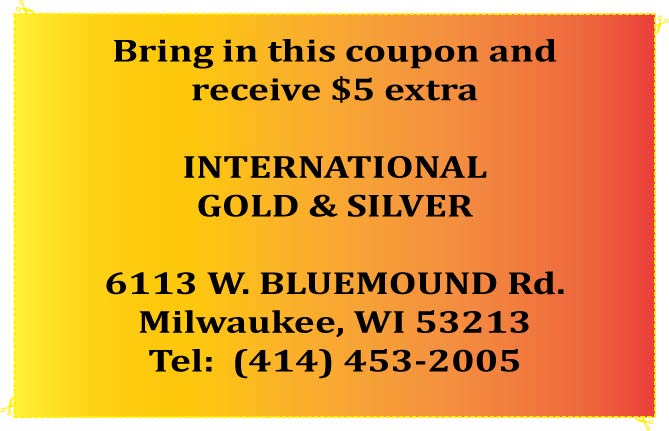 Where to sell your jewelry? Where to sell your gold jewelry?
International Gold and Silver

, is the best place to sell jewelry, offering the best prices in town

Paying Cash for Gold